---
NEWS
Reich&Schäfer - "Trails" Out Now

"Trails" is a three-part sonic journey i recorded with my friend and fellow synth aficionado Luis Reich. We met up one sunny sunday afternoon in my homestudio with one simple idea in mind: play music. We decided to only use one synth and one effect. (Everyone who knows me will be able to guess what instruments i'm talking about: My beloved Juno-60 and Space Echo. What a dream team.)
By the end of the day we had recorded three different sonic streams ranging from drony ambient to upfront synthwave.
Everybody who's into pearly arpeggios, elegiac pads and analogue sounds will find something to enjoy.
Enjoy.

"Trails" by Reich&Schäfer
Released June 30, 2023 on AMC Records
Artwork by Robert Blanc
16th December 2022

My rework of the track "Opaque" by Head Under Water is Out Now.

A couple of months ago my dear friend Robert of Head Under Water approached me and asked if i would like to do a remix of one of his new songs. He gave me the freedom to choose a track of his new EP and it didn't take long for me to decide that the beautifully atmospheric track Opaque would be the one.

I'm really happy with this new piece of music that bears the sonic signature of Robert and myself.

The entire track was recorded a a one-take on my analogue synth setup: The arpeggios, bass and melodies were all played on my PerFourmer. For the drums i used the Jomox Mbase 11 and Vermona DRM.


---
25th November 2022

I'm thrilled to be a part of the new Pop Ambient 2023 compilation released by KOMPAKT.

Together with my friends Luis Reich, Alex Linster and Joel Jaffe of Sono Kollektiv we recorded two calm ambient tracks during our residency at the beautiful and inspiring Buchnerhof near Bolzano.

Feel free to listen to this beautiful compilation CD, vinyl or as a digital album. There's also a wonderfully arranged Continuous Mix by Woflgang Voigt you can listen to.

You'll be in for a sonic treat with all these wonderful acts: Thore Pfeiffer, Max Würden, Joachim Spieth, Zakè, Leandro Fresco, Gen Pop, Morgen Wurde, Tetsuroh Konishi, Triola, Jens-Uwe Beyer, Reich & Würden, Kinbrae, Blank Gloss and Ümit Han.
---
Artwork by Franzi Schardt
Photos by Nils-Simon Fischer

22nd April 2022

A few years ago I sketched out a piece of ambient music which evolves around one sampled synthesizer note I had recorded rather incidentally during a rehearsal. I got fascinated by the idea of building an immersive sonic space with it and so I started duplicating, layering, augmenting and modifying it. Once the arrangement was final and I began mixing the track I felt the piece sounded somewhat unrealistic and clinical. So I started experimenting with different kinds of reverbs and echoes only to find that the one thing that was missing was the sound of an existing space.

Thanks to the help of Luis Weiß and the KHG I was able to record some ambience at the brutalist church Hl. Johannes XXIII in Cologne. What you hear now is the combination of these two layers: 25 minutes of unedited ambience and a collaged soundscape. So I invite you to close your eyes and explore the sonic textures of my latest work "Mosaik".

Released on Acoustic Motion Concepts (AMC Records) in a limited edition of 100 cassettes.

Music written, produced and mixed by me
Photo by Roman Wollenhaupt
Design by Franzi Schardt
Repros by Nils-Simon Fischer
Mastered by Patrick Leuchter at Hidden Track Studio
Cassettes produced by T.A.P.E. Muzik
Ambience recorded at Hl. Johannes XXIII, Cologne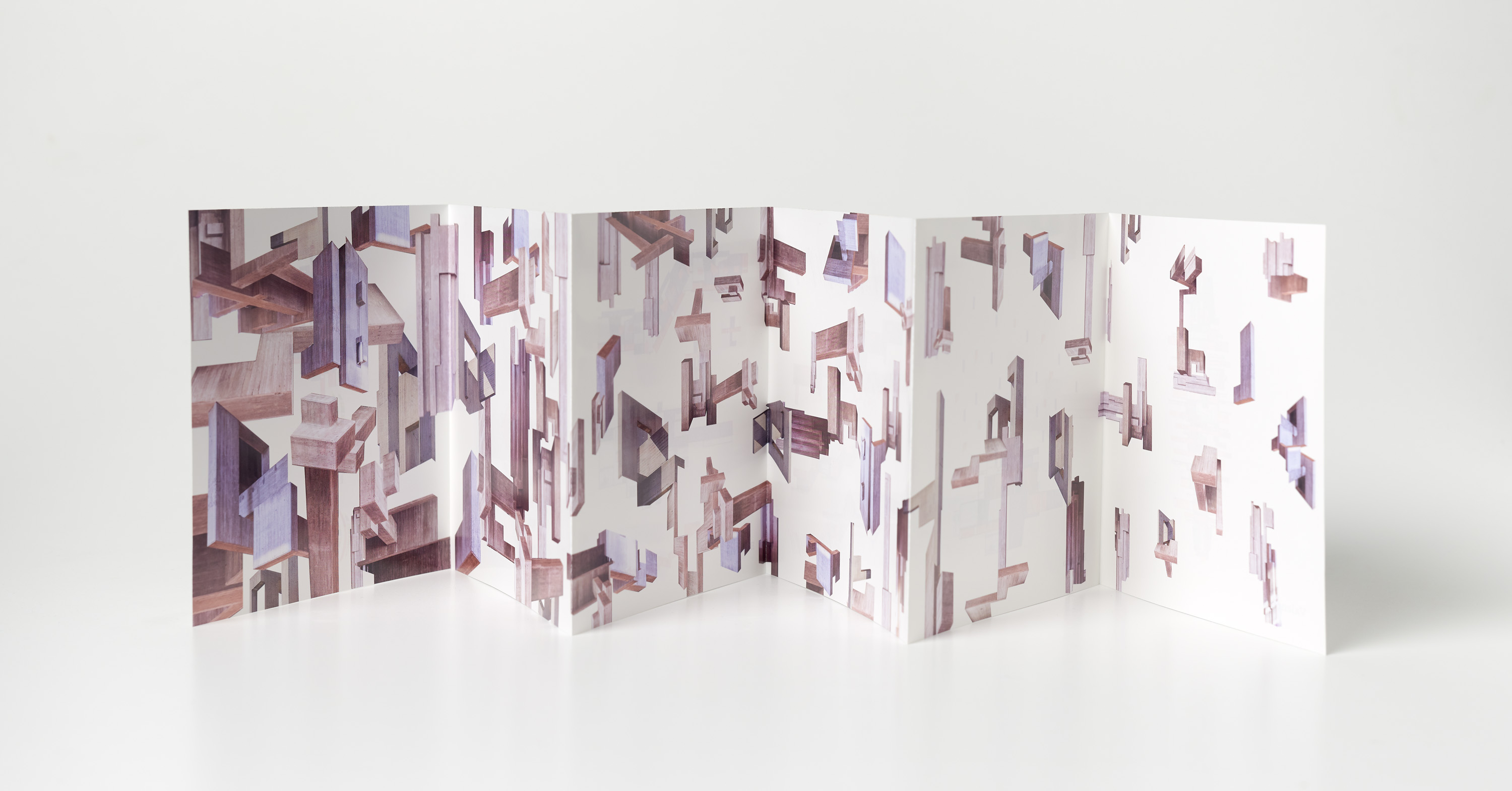 Artwork by Örn Ingi Unnsteinsson
Photos by Nils-Simon Fischer
12
th
November 2021
I am happy to announce the release of my debut album Mosaik 127 on AMC Records. I am really happy and proud - not only of the final result - but also of the inspiring people I was able to work with. It was one of the most fun projects I've done so far and I sincerely want to thank:
Luis Weiß for all the inspiring talks, input and support during the last months

Patrick Leuchter for a magnificent mastering session

Örn Ingi Unnsteinsson for the inspiring artwork and collages

Ella O'Brien-Coker for her inspiring lecture performance from which you will find a small excerpt in the liner notes

and last but not least Till Kniola and the Cultural Office of the city of Cologne for their support.

Music written, performed, recorded and mixed by me
Mastered by Patrick Leuchter at Hidden Track Studio
Artwork by Örn Ingi Unnsteinsson
Artist Photo by Karl-F. Degenhardt
With an excerpt fromt he lecture performance "Das Privileg hier zu sein" by Ella O'Brien Coker
Mosaik 127 has been released on Acoustic Motion Concepts (AMC Records).
Repros by Nils-Simon Fischer




Lukas Schäfer is a Cologne-based multi-instrumentalist, composer and music producer.
His focus lies on electronic and electroacoustic music and includes genres such as jazz, pop, ambient and electro.
He also collaborates with artists from the fields of visual arts, theatre and film on a regular basis.
Dates 2023
---
11th November
2nd November

28th October
20th October

16th June
2nd June

2nd April
1st April

31st March
25th March
9th-11th March

5th February



Dates 2022
---
10th December
7th December
3rd December

26th November
21st November
6th November
5th November

11th September

19th August

7th July
6th July

Location
---
Keller, Rettenberg
Café Colonius, Cologne

Die Bank, Cologne
Basement, Cologne

Stadtpfarrkirche, Fulda
Theatersaal Klandorf

Kreuzkirche, Münster
Heilg Geist Kirche, Emmerich

Annakirche, Düren
Hechingen
Messe Frankfurt

ECLAT Festival, Schauspielhaus Stuttgart



Location
---
Peter und Paul, Gauselfingen
Artheater, Cologne
Umspannwerk Kreuzberg, Berlin

Peter und Paul, Gauselfingen
AKM Theatre Hall, Istanbul
Altes Stadtbad, Krefeld
Altes Stadtbad, Krefeld

Hertz-Jesu-Kirche, Munich

Discobude, Cologne

Liebigstraße 257, Cologne
Kunstakademie Düsseldorf

Act

---
Reich&Schäfer
MITFINOP

Schäfer
Sono Kollektiv

Schäfer, Reich & Würden
Dream Machine

Luis Weiß
Luis Weiß

Luis Weiß
Luis Weiß
Luis Weiß

Dream Machine



Act
---
Schäfer
Schäfer
Schäfer

Schäfer
Dream Machine
Dream Machine
Dream Machine

Luis Weiß

Schäfer

Schäfer
Schäfer
10th-12th June
4th June
St. Mariä Heimsuchung, Alfter
St. Getrud, Cologne
Schäfer & Sono Kollektiv
Schäfer & Sono Kollektiv

27th May
24th May
St. Fidelis, Stuttgart
Klanggrenzen Festival, Coburg
Luis Weiß
Schäfer & Berndt
26th April
21st April
10th April
9th April
Zentralbibliothek, Cologne
Club CANN, Stuttgart
rhiz, Wien
Volksbühne, Berlin
Denis
Denis
Denis
Dream Machine
25th February
5th February
4th February
Düsseldorfer Schauspielhaus
Synodaler Weg, Frankfurt/Main
Synodaler Weg, Frankfurt/Main
Dream Machine
Luis Weiß
Luis Weiß
16th January
15th January
13th January
GAM, Santiago de Chile
GAM, Santiago de Chile
GAM, Santiago de Chile
Dream Machine
Dream Machine
Dream Machine
26th-28th November
23rd November
20th November
12th November
9th November

29th October

21st September

29th August
21st August

3rd & 4th July

Next Level Festival, Essen
Altes Pfandhaus, Cologne
Scheune Blechschloss, Dresden
Johannes XXIII., Cologne
Astrastube, Hamburg

King Georg, Cologne

HfMT Köln, Cologne

The Pool, Düsseldorf
Ebertplatz, Cologne

Theater der Welt / Düsseldorfer Schauspielhaus

Nicolas Berge & Lucia Kilger
Stadtgespräch
Denis
Schäfer
Denis

Denis

Pascal Hahn

Schäfer
Sono Kollektiv

Dream Machine